Exactly one year ago, on 17 December 2018, the Declaration on the Rights of Peasants was adopted by the United Nations.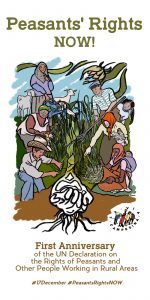 The adoption of the Declaration, the result of a 17-year struggle for the recognition of the rights of this particularly vulnerable population, is a historic moment. If it is respected and effectively implemented, it represents an instrument that can be useful, not only for peasants but for humanity as a whole.
As the ideal forum for the development of international standards, the United Nations must be invested by the people. Farmers have done so, proving that people can change international law.
On the occasion of the celebration of the first year, a joint statement has just been signed by 9 special rapporteurs and experts and 4 members of the UN treaty bodies. This document stresses that peasants must participate "in all decision-making processes that may affect their lives, lands, resources and livelihoods" and repeatedly urges States to play an essential role in the implementation of the Declaration.
The publication of such a document is a strong sign and hope for the future of the Declaration on the Rights of Peasants.
The CETIM and Via Campesina will continue to advocate for the implementation of the measures of this instrument. The signing of the Declaration is a victory, but the real challenge continues now.
The entire joint statement published by UN can be read here.
La Via Campesina has also published an article, to be read here.
And you can order her the e-book by CETIM "The UN Declaration on the Rights of Peasants".