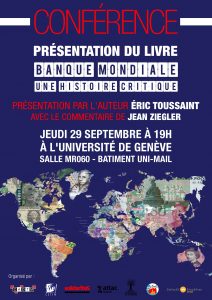 Presentation of the book "World Bank: A Critical History"
By its author Eric Toussaint
Thursday 29 September at 7pm in room MR060 at Uni Mail (Boulevard du Pont d'Arve 40, Geneva) – University of Geneva
With Jean Ziegler, who will comment
This book, translated into ten languages, provides the keys to answering a series of questions: Does the World Bank seek to combat poverty in the world? What is the record of its work, which spans more than seven decades? Who runs the World Bank and how does it work? What is its relationship with the major powers, and in particular with the United States? What is its relationship with other major international institutions such as the UN, the IMF and the WTO? Why do the policies it recommends not guarantee that people's basic needs and rights are met? Why does it intervene to destabilise or help overthrow governments that are seeking an original path? Why does it claim that a rise in inequality is necessary for development? Why does it say that countries in the South must go into debt to develop? Does it have a responsibility for the debt crises in developing countries? What is the impact of its action on food security, on the environment, on public health, on women, on those who live from their work?
This book adopts a chronological approach to analyse the World Bank from its origins to 2021. Particular care is taken to situate World Bank policy in its political and geostrategic context. In addition, eight country studies illustrate World Bank policy: the Philippines, Turkey, Indonesia, South Korea, Mexico, Ecuador, Rwanda and East Timor.
The book is written in clear language and includes tables and graphs, a fact sheet on the World Bank Group and the IMF, as well as an index of the main names cited and a glossary.
Éric Toussaint, historian and economist, holds a doctorate in political science from the universities of Paris VIII and Liège. He is the author of some fifteen books on international finance published in a dozen languages. He is the international spokesperson for the Committee for the Abolition of Illegitimate Debt, formerly the Committee for the Cancellation of Third World Debt, an international network present in over thirty countries on four continents.
Co-organisation: CADTM (Committee for the Abolition of Illegitimate Debts), SolidaritéS (member of the Ensemble à Gauche SolidaritéS-DAL-Parti du Travail coalition), CETIM (Europe-Third World Centre), ATTAC Suisse, Grève du Climat Genève, Collectif BreakfFree Suisse, Groupe écosocialiste de solidaritéS, Jeunesse solidaire-solidaritéS Jeunes.